Spotlight Magazine
The bi-monthly magazine of Essex CTC Member Group featuring articles and subsidiary group ride reports.
Previous issues of Spotlight in PDF format:
2018

2017

2016

2015

2014

2013

2012

2011

2010

2009
Subscribe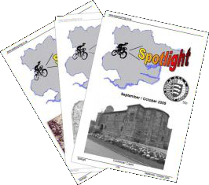 It is only £6 a year (including p&p) for 6 issues! Payment can be made by cheque (made payable to 'Essex CTC Member Group') or by bank transfer (details below).
Account Name

Essex CTC Member Group

Account Number

65542231

Sort Code

08-92-99
Email Jon Collins or phone him on 01245 320733.
Advertise
Annual advertising renewal is set on the 31st July for the payment for the following year though advertisers can enquire any time throughout the year. Advertisers will receive a complimentary copy of each issue of the magazine and, a link on our website comes at no extra cost!
£15 a year for half a page (A6)
£28 a year for a full page (A5)
For enquiries, please contact the Advertising Officer.
Contribute
Please send to the Editor your Ride Reports, Cycling Articles, Poems, etc. (the Editor reserves the right to edit contributions for reasons of space, clarity, or libel).
Closing date for contributions is the 15th of the month before the issue is due.
January/February
March/April
May/June
July/August
September/October
November/December
Impressum
Editor — Stefan Eichenseher
42A Whitegate Road, Southend-on-Sea, Essex, SS1 2LQ
01702 621810
Advertising Officer — Martin Pipe